So as my presentation at KidLitCon this past weekend was titled:
Oh, You Mean the Caterpillar Guy?: Viewing Illustration as High Art and Using Visual Literacy Methods to Enhance Our Evaluation of It, I figured what better way to look back on this weekend then by creating a recap through images (well mostly images)! (I should say that unfortunately I didn't think of this idea until I got home, so if I would have had this in mind there are a few other things I would have photographed, but hopefully you'll get a good sense from what I have...)
Hope you enjoy this first part about Friday's PreCon, soon to be followed by part 2 about Saturday and later this week I'll be posting a recap of sorts of my presentation, including images, the Prezi slideshow, and videos!
Friday's PreCon
So, Friday's precon started with heading out to my first publisher preview which was at Simon and Schuster! I was a bit early and when I arrived I finally found the room for all of us KidLitCon-ers on the 17th floor filled with goodies:
Awesome raffle prizes:
After settling down we got to hear from author/illustrator, Meghan McCarthy about her new picture book biography of Betty Skelton along with a bunch of awesome details about her work process, pictures of her work area and the many distractions that plague her! :) Here's an image from her website for her new book: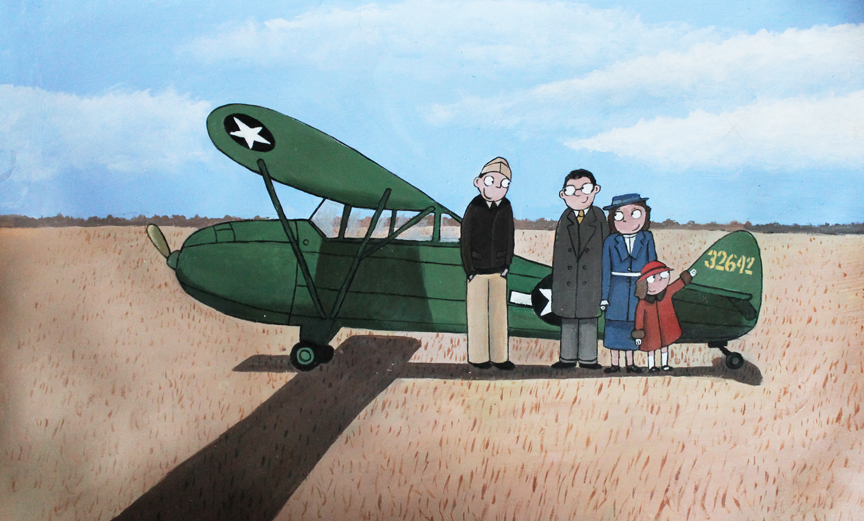 After Megan, we got to hear from Simon and Schuster's Library Marketing/Editorial team about a bunch of interesting upcoming titles for the Winter and Summer seasons. I was really excited to hear from Caitlyn Dloughy, the Editorial Director for the Atheneum imprint and editor for William Joyce! She spoke about Joyce's new books that are coming out about the mythology behind characters from the childhood imagination like Jack Frost, Santa Claus, the Sandman, the Easter Bunny, and the Tooth Fairy. It was so cool because we had just been talking about these books and specifically the movie in my Fairy Tale class! They sound and look awesome, as does the film's trailer which we got a sneak peek of and I just LOVE Joyce's illustrations!
(Really enjoyed meeting Jen from Larkin's Book Bloggers and Liz from the new blog Pen & Oink)
During our about two hour lunch break I scrambled around trying to find a few things I needed to get, and ended up sort of skipping lunch, snacking on some Justin's chocolate hazelnut butter as I walked past MoMA, and made my way a bit tiredly to Harper Collins, once again early.
But when we got to our floor, we were greeted by the friendly Molly Thomas, and my rainy, gloomy tired feeling slowly lifted as we all entered a wonderful conference room with more waiting for us and the chance to hear from all the wonderful children's/YA imprint editors at Harper!:
There were so, so, so many great books to hear about coming from the various imprints at Harper Collins! I'm hoping to in the near future put up a list of the books that I'm most excited about from Harper Collins, once cover images are more readily available on the internet! The one that sticks out that I'm definitely excited for is Maryrose Wood's fourth installment for the Incorrigible Children of Ashton Place series!!
(Enjoyed meeting Charlotte from Charlotte's Library, Sheila from

Wands and Worlds
and you can find her here on RebelMouse
, Sondra from

Sonder Books

, Liz from

A Chair, a Fireplace & A Tea Cozy

, Kelly from

Stacked

, and I can't remember your name :/ but I loved talking to you, you're right next to Kelly in this picture so if you're reading this please comment below because I wanted to check out your blog :) And I know you were helping with non-fiction picture books for Cybils I believe but I can't remember your name! :/ )
A few hours after the publisher previews were through, which as you can probably sense went WONDERFULLY thanks to Monica Edinger's careful planning, almost 60 of us met up at IchiUmi, a Japanese buffet, to have dinner and hear from Newberry winner and just one of the nicest people I've ever met, Grace Lin. Here she is with her beyond cute baby girl:
In case you can't see the image she has on the screen in this photo, here it is below, this is literally one of my favorite pages from any picture book, and it just added to my sense of completely relating to Grace Lin's talk!:
I can't wait to read her books now, especially after hearing the huge influence fairy tales had on them (because if you can believe this I haven't read any of her books!!)
Melanie Hope Greenberg
, and the blogger from
Storied Cities
and
What Do We Do All Day?
and I feel really silly because I can't remember your name!! Sorry! And I also really enjoyed meeting and talking with author
Geoff Rodkey
, whose new series, starting with the book titled
Deadweather and Sunrise
, I'm really looking forward to finding and reading! Rick Riordan describes it in the following way, and it just sounds awesome: "A great book...Lemony Snicket meets Pirates of the Caribbean with a sprinkling of Tom Sawyer..."
Really, really delicious sushi from IchUmi, I definitely recommend it if you're ever looking for a variety of sushi and Japanese food in NYC:
So, that's it for Part 1, Friday PreCon at KidLitCon 2012! Thank you so much to

Betsy Bird

and

Monica Edinger

for all the work and planning that went into this weekend. Please stay tuned for KidLitCon through Images Part 2: Saturday Con!!
Oh, and here's the first images of my KidLitCon loot :) I ended up trading and not taking all of these home with me, since they sort of didn't fit in my luggage, but here's the original piles, not including picture books! :